All that is necessary for evil to triumph is for good men to do nothing ~ Edmund Burke What are you going to do? BE INFORMED and PLEASE share the truth with others.
Please see documentation verifying the following local girl scout councils that have promoted Margaret Sanger:
Girl Scouts of Gateway Council
Girl Scouts Greater New York
Girl Scouts of Central Maryland
Girl Scouts of Colonial Coast
See the above information featured in this article entitled, Girl Scouts: Planned Parenthood's founder is among 'most inspiring … women in American history'  (published 2/8/17)
Please help us travel to 2017 March for Life (in Washington DC) and the 2017 Walk for Life (in San Francisco, Calif).
Over the last six years our family has funded the majority of the costs to participate in these events in our efforts to spread the truth about Girl Scouts and their relationship with pro-abortion advocacy groups as well as promoting well know pro-abortion individuals. We are very committed to this important mission and have no plans to slow our efforts going forward, however, in exhibiting at previous prolife events over the last 5 years, our family has personally taken on the financial burden of this work and to date have spent approximately $23,000 from our own family budget. The truth is, I am preschool teacher, my husband is an asset manager. We can no longer continue to fund these efforts alone. Would you please prayerfully consider helping us with a donation for this important venture?  Please donate online at https://www.wonderwe.com/pojre0r
Most importantly, we please ask for your prayers for this mission and for all the faithful who are working to protect children and share important information with families across our nation. Thank you for your consideration and support
Websites that we love:
www.MyGirlScoutCouncil.com –  Discover concerns specific to your local GS Council. Presents documented report for local councils. Like this group on Facebook for updates.
MissouriLife.org – Download the 2013 Missouri Right to Life Policy Statement on Girl Scouts USA (with supporting documentation).
www.SpeakNowGirlScouts.com – As seen on: Fox News, EWTN Founded by pro-life teenagers/former Girl Scouts. Documents the GSUSA connection to abortion rights agenda.
www.CookieCott.com – Created by Pro-Life WACO. Find out what you should know about Girl Scout cookies before you buy them.
Archdiocese of Kansas City – www.ArchKCK.org/Scouting Access PDF report documenting GSUSA and WAGGGS pro-life CONCERNS. Offers pro-life alternative scouting groups.
Girl Scouts USA partners with pro-abortion advocacy groups.
Please view our 3-part video series detailing the many pro-life concerns about the Girl Scout organization. Click here to access the videos and the accompanying video documentation guides which provide supporting verifiable evidence including screen-shots and direct links from the Girl Scouts' own websites, page scans from the Girl Scouts' official curriculum for girls, and copies of the Girl Scouts' tax returns. This series has been promoted by Life News, Live Action, The Blaze, Jill Stanek, and World Magazine.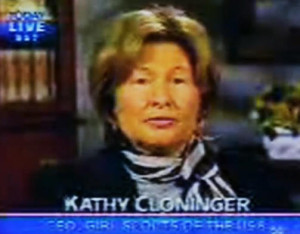 Girl Scout CEO Kathy Cloninger admits to a relationship between Girl Scouts and Planned Parenthood in a 2004 interview on the Today Show. Video Clip (33 seconds long)
On GSUSA's national Studio2B website there was a direct live link to Planned Parenthood to help girls work on an Interest Project and earn an "On Your Own" patch. This link was up as late as November 2005.
Is the new GSUSA, CEO Anna Marie Chavez (reportedly Catholic) pro-abortion? In 2009 Chavez spoke at a women's event co-sponsored by the local Planned Parenthood.  Would a Catholic be seen at these events?  Ideology at work: Girl Scouts CEO Anna Maria Chavez Article written by Mary Hasson, Catholic News Agency 3/1/12
Girl Scouts' spokesperson, Michelle Tompkins, attempts to explain the relationship between Girl Scouts and Planned Parenthood. Video Clip Interview was produced by CNS in June 2011
Sandy Thomas, Vice President of Global Girl Scouting/Strategic Alliances, stated in an email dated April 4, 2011: "Through GSUSA's membership all our girl and adult members are members of WAGGGS.  The amount of .44₵ is the approximate amount GSUSA pays per member as the WAGGGS quota is figure on the numbers of members."  After reviewing every detail (including GSUSA's tax returns) within our WAGGGS page, you will conclude that more Catholic Girl Scout members equals an increased annual "membership quota payment" from GSUSA paid to the pro-abortion advocacy WAGGGS organization.
Abby Johnson: Pro Life Advocate
Read Abby Johnson's blog endorsing our website.
"I will never forget the first time I saw a GSUSA logo on the back of one of our Planned Parenthood brochures" 5/27/11
… what are you going to do?
Here is what you can do; please write to your bishop (contact information for your bishop). We hope that people will feel "moved" to be directly involved in this mission by writing to their bishop or parish priest. Please provide your bishop/parish priest with the following informational packet:
1) sample letter to bishop/parish priest
2) website informational flyer
3) article: Denver Bishop: Girl Scouts could make girls more open to pro-abortion agenda
4) Birds of a Feather Flock Together article written by Patricia Bainbridge (Human Life International, Life Decisions International)
5) Illinois Bishop endorsement of AHG
6) BSA and AHG Promotional Brochure
7) Concerned Catholic families (video 1 minute 38 seconds)
Links on Girl Scouts Why Not.com
Recent investigations show concerns about the NFCYM, including information on the NFCYM's own website that link Catholics to pro-abortion organizations.  In addition, a book authored by the NFCYM Executive Director, Bob McCarty, provides problematic recommendations to pro-abortion websites.  To view more troubling issues please see our NFCYM page.
The Articles page contains very informative articles published in Catholic News Agency, World Net Daily, Life News, The Washington Times, American Life League's STOPP International, National Catholic Register and many others on the subject of Girl Scouts and their relationship/partnership with Planned Parenthood and other abortion advocacy groups that are contrary to the teachings of the Catholic Church.
GSUSA is hiding the Truth from you.  So, if you contact them with concerns, don't expect to get straight answers.  We have screen shots of GSUSA's own website proving relationships or partnerships with pro-abortion advocacy groups.  See if your local GS council is listed here on our Truth page.
All Girl Scouts are members of WAGGGS through collaborated websites, activities, and finances.  This intricate relationship with local Girl Scout troops is extremely disconcerting because WAGGGS promotes and advocates a campaign for "sexual and reproductive health services," including "emergency contraception in order to avoid unintended pregnancies" and accessible, affordable … abortions" as stated on their website.
Girl Scouts Resources: GSUSA books that are purchased by families at the local Girl Scout council level.  Some of the literature lists websites that girls can explore which leads them to Planned Parenthood and other Pro-Choice websites. Some of the books list known pro-abortion women advocates for young Girl Scouts to emulate.
The About page contains information about our "Parents for Life" mission group, our mission goals, and intentions.  Our mission group includes 1 former Girl Scout Leader, 4 former Girl Scouts, 4 families and a spiritual director.  We launched www.girlscoutswhynot.com on May 8th, 2010.  Our mission group is exposing the connection of Girl Scouts to Planned Parenthood and other pro-abortion advocacy groups and individuals. We are asking all Catholic parishes and schools worldwide to sever ties with GSUSA and WAGS.
Visit our You Tube channel for video interview posts including a FOX News interview with a 16 year old ex-Girl Scout (this live interview took place on 12/29/11)
Why are the values of the Girl Scouts organization raising some concerns? Hear Catholic Family and Human Rights Institute (C-FAM) President Austin Ruse and his wife, Family Research Council (FRC) Senior Fellow Cathy Cleaver Ruse discuss what the Girl Scouts' connections with Family Planning groups means for young girls. Fr. Benedict Groeschel's must-see interview with this couple on EWTN's "Sunday Night Prime"